District Habitat Week, presented by Fenêtres Magistral, is a sharing of content to inform you, advise you and introduce you to the exhibitors.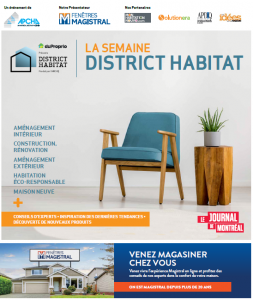 May 8
You may discover the CASA notebook inserted in Le Journal de Montréal, revamped Semaine District Habitat. Articles have given you tips and tricks, advice or have introduced you to new home products.
You can also access it on jemagazine.ca.
Contact our featured exhibitors directly using the QR code: just one click with your cell phone camera!